February, 1, 2012
By Sheldon Shealer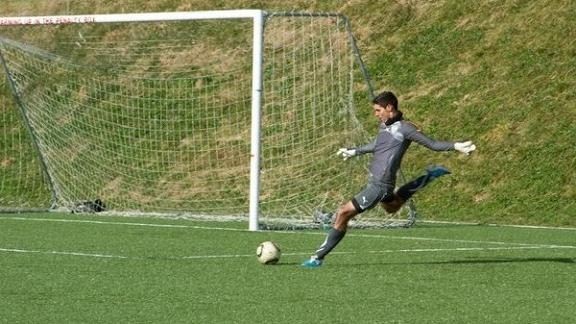 Morell familyKarlo Morell will make good on a childhood dream when he signs a national letter of intent to play college soccer in the U.S.
Karlo Morell and Alexandra Mack, like thousands of high school seniors, plan to ink National Letters of Intent this week. However, their path to NCAA Division I scholarships was anything but ordinary.
Morell, a 17-year-old living in Puerto Rico, and Mack, a 17-year-old residing in Naples, Italy, are products of American military schools. Unlike their U.S. counterparts, Morell and Mack did not have the benefit of playing at club soccer showcases in front of college recruiters. They were not part of a high school soccer system that provided opportunities. There were no coaches lobbying for them.
Instead, Morell and Mack honed their skills with teams in Puerto Rico and Italy. They worked the Internet in search of schools that might be interested. They used their infrequent trips to the U.S. to participate in college camps – which ultimately led to Division I offers.
Morell has committed to Iona in New York. Mack is destined for Liberty University in Virginia.
"Ever since I was young, I wanted to go to college and play soccer," Mack said. "It all still seems a little unreal right now."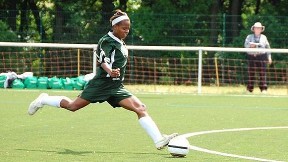 Natalie MackDespite living in Italy, Alexandra Mack was able to reach her goal of signing an NCAA Division I soccer scholarship.
Mack, a U.S. citizen, lived Maryland, California and Virginia before her father's position as chaplain in the U.S. Navy took the family to Italy in 2010. She was a member of the U.S. Youth Soccer Olympic Development Program at the under-13 and 14 ages before heading abroad. In Italy, Mack, a forward, won MVP honors at Naples American High School last season and helped her team win the Department of Defense Dependents Schools Division II European championship. To improve her game, she played ODP Europe and for Napoli Calcio Femminile Primavera, which fields teams from the under-15 to 25 age range. All the effort, however, resulted in no college interest.
"Seldom do … significant events line up with the dreams and aspirations of a young military teenager. Our family calls them blessings," Chaplain L.J. Mack said. "Much of the lives of military teenagers are spent enjoying the travel and enduring the uncertainty of the next place to call home and the process of making new friends."
Mack's soccer recruiting fortune started to change when she asked her parents to send her to Liberty University's summer camp in July 2011.
"After going to the camp and interacting with the girls on the team, I knew that's where I wanted to be," Mack said.
Liberty's coaching staff concurred. Following the camp, Mack stayed in contact with the coaches, providing updates on her play. Finally, in December, Mack verbally committed to Liberty.
In summing up her recruiting experience, Mack said much of it was a solo drive.
"I had to take it upon myself and stay dedicated," she said. "I practiced by myself, I contacted colleges by myself. I had to stay motivated."
Morell, unlike Mack, is Puerto Rican, yet attends the American Military Academy in Guaynabo, Puerto Rico.
"U.S. competition in soccer is very great. You can live the dream of becoming a professional in the U.S., and that motivated me to go to a U.S. college," Morell said. "Since ninth grade my dream was to play in the U.S. first division [college] and then play professional."
Morell attended five summer college camps, four in Florida, one in North Carolina. In addition, his club team played in eight tournaments in the U.S., but Morell said since the events were not showcases it drew little interest. Morell gave one last try at a Florida camp — the Star Goalkeeper Academy — and was noticed by Ryan Carr, the strength and conditioning coach from Iona. Carr passed Morell's information to the Iona men's soccer coach, which started the recruiting process.
"I didn't do showcases and we aren't part of the [U.S. Soccer Development] Academy, so I had to go to camps," Morell said. "[Being seen by Iona] was kind of lucky and kind of a blessing. … It was a coincidence that [Carr] was there, but it wasn't a coincidence they liked the way I played. It was lucky that we got to meet each other."
Morell made an official visit Sept. 21 to Iona, a school that he had never heard of until meeting the strength and conditioning coach.
"It was even better than what I saw online," he said about the school and program, which is coming off a 15-4-1 showing in 2011. "It's small, but it can give you a lot."
Morell said his parents hoped he would be closer to Puerto Rico, but they have been open-minded about his opportunity to play NCAA Division I soccer.
"The parent aspect of it, they see me accomplishing my dream and they're very proud of me," he said.
Even though Mack and Morell have reached their goals of being NCAA Division I recruits, their present locations are resulting in one last hassle. Morell will have additional paperwork to complete before officially becoming an Iona signee. Mack, meanwhile, said FedEx was having difficulty delivering the signing package to a military PO Box in Italy.
Comentarios
Comentarios
Haz click en la imagen y únete a la comunidad hoy.