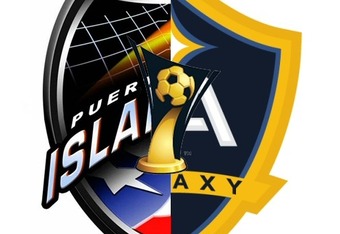 After a thrilling 2-2 draw with the San Jose Earthquakes, Bruce Arena's Los Angeles Galaxy take a break from Major League Soccer action to face off against the Puerto Rico Islanders in the first leg of the 2010-11 CONCACAF Champions League preliminary round.
Colin Clarke's Islanders are currently going through a difficult season in the 2010 USSF D-2 Pro League, with a 5-7-5 record (20 points). A preliminary round victory ovet Bruce Arena's Galaxy would more than make up for their horrid D-2 campaign.
«It's an honor to be able to represent the Caribbean and our league,» Puerto Rico goalkeeper Bill Gaudette said. «To be able to participate in each of the three years is an honor. It's not a gift or a free invitation. You have to qualify every year and fortunately for us we've put some success together to be able to represent our region the last couple of years.
Haz click para descubrir más sobre Neuro Sports
«I felt like some of the success we've had down here in Puerto Rico we could really build on. So far we've been rewarded with the Caribbean championship, but obviously we have a lot more work to do. We want to go out there and win the [USSF Division-2 Pro League] and obviously Champions League would be a huge step.»
Gaudette will have his hands full with stopping the attacking tandem of Landon Donovan and Edson Buddle. As for the Islanders' attack, look for goalkeeper Donovan Ricketts to brush off a rusty outing against the Earthquakes with defender Omar Gonzalez making his presence felt in the central defense.
«The leagues in the U.S. have equaled out a bit the last couple of years in terms of quality of play so we're excited to have the opportunity to go and play one of the best clubs in MLS right now,» Gaudette added. «They have wonderful players all around the park.
«It's going to be a difficult game for us. We have two chances to give them a game, and we're going to see what happens. We'll go out to LA and give it our best and they have to come down to Puerto Rico, which not many teams like to do.»
A key player for LA to mark is Islanders forward David John Foley. He leads the club with five goals on the season. The Galaxy defense will also be wise to prevent chances from the unlikeliest of heroes, such as Kendall Jagdeosingh, whose goal against Toronto FC was the eventual decider in the preliminary round last year.
The Galaxy are currently 12-2-4 (40 points) and are currently leading the 2010 MLS Western Conference and overall standings. Buddle leads the league with 12 goals, while Donovan leads MLS with 11 assists. If the Buddlevan Connection is not kept at bay, this could be a one-sided affair.
Ricketts had a 0.59 goals against average, with 48 saves made this season. Todd Dunivant has been a workhorse on defense, with 1,607 game minutes in 18 appearances donning LA's strip.
The CONCACAF Champions League is the annual international club football championship for teams from the CONCACAF region (North America, Central America, and the Caribbean).
The competition is open to the leading teams in the region and replaced the CONCACAF Champions' Cup, which has run from 1962 to 2008. The winner earns a berth in the next FIFA Club World Cup, which pits each continental confederation's champion against the others each year.
Prediction
Look for the Islanders to play a defensive game, packing it tight, and striking like a cobra when the Galaxy are not set in the back. While Puerto Rico is a step down in talent from San Jose, it does not necessarily mean that this is a team that knows how to capitalize on opportunity.
But what will be the ultimate winner in this first leg…is depth.
«We have a lot of games ahead of us,» Arena said after the match with San Jose. «There's no other way to get guys minutes. Kovalenko hasn't played in a long time.»—his last appearance was in the second game of the season on April 1, when he suffered a strained right hamstring—«and we have no other way to move him along and get him ready and play and contribute. He has to play.
«Leonardo is an excellent defender and we need to put him in there.
There's going to be situations in a couple of months where we need to rotate our center backs and our holding midfielders. We have to play these players…there's no other way to get them in position as we move forward to help our team. We can't have a situation where six weeks down the road we have a suspension or injury and expect our guys to step on the field and not miss a beat. They had to play.»
«The beauty of this team,» Donovan said after the Quakes match, «is that we have 24, 25 guys that are very capable of playing and contributing. Throughout the year you've seen all sorts of guys step in and help and make a difference.
«It's going to continue that way. We have a lot of games coming up, we're all prepared for it and everybody's got to be ready to play.»
Starting with this.
Manchester United can have the MLS All-Star exhibition. The Galaxy—big guns and all—will take a blowout win. Full steam ahead to Bayamon!
Los Angeles Galaxy 5, Puerto Rico Islanders 0
Kickoff is scheduled for 7:00 p.m. PT and will be televised by Fox Soccer Channel.
Comentarios
Comentarios