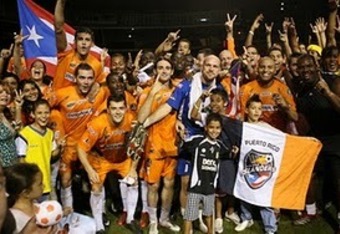 Reggaeton star Tito «El Bambino» predicts that Puerto Rico will make it to the FIFA World Cup.ew York, NY (August 2, 2010)

—

Efraín David Fines Nevares, better known as Tito «El Bambino,» is in a sports state of mind.
The famous reggaeton star performed at a Heineken sponsored event in SoHo last Saturday as part of a promotional tour for his third solo CD. The new CD is entitled "El Patron" («The Boss,» in English), a second nickname that Tito has been aptly sporting as he continues to rise in stature in the reggaeton music genre. He thrilled a packed house of fans and revelers at the "Heineken Inspire" event held at the huge St. John's Center Studios near Houston Street, interpreting some of his major hits, including "El Amor."
I conducted an exclusive interview with Tito to inquire about his sports preferences and fitness routine.
Tito revealed that he is a baseball and basketball fan but said that he is impressed with growth of soccer in his native Puerto Rico.
Queried about his thoughts about the impressive international success of the Puerto Rico Islanders of the USL, the U.S. second division, Tito said he thanks them for helping to put Puerto Rico in the global soccer landscape and that he hopes to see them at the FIFA World Cup soon.
Tito is correct in having a lot confidence about the Islanders. The Puerto Rican club made it all the way to the semifinals of the 2009 CONCACAF Champions League. They certainly are one of the best club teams in the North America, Central America, and Caribbean area, but they cannot represent Puerto Rico in the FIFA World Cup. Only national teams, as opposed to private clubs, can play in the World Cup.
Granted, if that were permitted, the Puerto Rico Islanders would hold their own and would have a reasonable chance of advancing to the second phase of the storied international soccer tournament.
However, with the launch of the new Puerto Rican professional soccer league, the future for futbol boricua is bright with or without the Puerto Rico Islanders. With the new league in place, the chances of the Puerto Rican national team to qualify for the World Cup continue to get stronger and more realistic.
Tito continued his connection with the world of sports, performing last night at the Central American Games' closing ceremonies in Mayaguez, Puerto Rico. The "Isla del Encanto" hosted the 21st Central American and Caribbean Games and overall, the organizers have received praise for the economic and sporting success the games have generated for Puerto Rico.
Regarding his fitness routine, Tito confessed that he is not much of an athlete, hates the gym, and hardly exercises at all. "With all the movements, dancing and energy required in each and every one of my performances, that burns a lot of calories!" he said. "My muscles stay firm and strong with all my dancing, moving, and performing."
Tito did add that he jogs regularly and plays a little baseball and basketball whenever he gets some downtime in his frenetic concert and recording schedule.
About that busy schedule, after Mayaguez, Tito will be off to Veracruz, Mexico to perform in a festival to celebrate that city's designation as host of the 2014 Central American Games and to raise funds for restorations following the damage caused by the Gulf of Mexico oil spill. Tito will be joined by Nuyorican stars Marc Anthony and Jennifer Lopez and by fellow Boricua, Ricky Martin.
Comentarios
Comentarios
Haz click en la imagen y únete a la comunidad hoy.