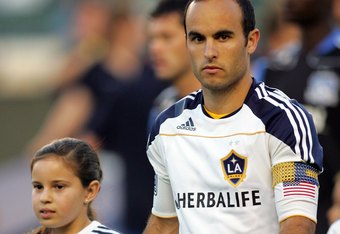 Victor Decolongon/Getty Images
Haz click para descubrir más sobre Neuro Sports
Bruce Arena's Los Angeles Galaxy are in state of flux as they head to Juan Roman Loubriel Stadium in Bayamon, Puerto Rico for the second leg of the 2010-11 CONCACAF Champions League Preliminary Round against the Puerto Rico Islanders.
It will be a tough go for the Galaxy, which is running a two-game losing streak with defeats to the Islanders and the Chicago Fire. Breakdowns in the defensive backline have led to goals aplenty from Colin Clarke's club, who ran away with the first leg to the tune of 4-1.
The Islanders can afford to lose 3-0 and still advance due to the away goals rule. Because of this, either of these instances needs to happen: the Galaxy must win by four, or score five goals while leading by at least three.
Again, let me reiterate: the Galaxy must win by four, or score five goals while winning by at least three. That is a pretty tall task to ask.
"I'm sick of giving up goals and I'm sick of not winning at home," said Galaxy captain Landon Donovan after the Chicago Fire defeat. "Maybe our attitude isn't right and maybe we're focusing on things off the field and not our jobs, but we're going to have to learn and learn quickly.
"I'll just say that we're disappointed with the last few results. But at the end of all of it, we still look up and we're still in first place in the league. We need to learn, we need to get better and we need to improve, but there are a lot of team's that are in a lot worse shape than we are right now."
The L.A. Galaxy manager echoed the same sentiments on Sunday.
"Our technical aspects have been poor because we should have been scoring goals from the run of play," Arena said after the match. "We could have scored five goals tonight and we didn't.
"Players can get a little complacent when they look at the standings and I think that some of our guys have done that recently. When you forget about the things that got you to where you are, it's going to be harder to get back, there's nothing good about this in my view, no matter if we've got 40 points or 15."
After the Chicago match, Gregg Berhalter said, «Thankfully this run has come in August instead of in October. But we're like a beaten dog right now, and it's time to get aggressive and not care about failing and just go out and do it."
The Galaxy currently have a 12-4-4 record (40 points), still the best record in Major League Soccer. While the Puerto Rico Islanders are 6-7-5 (23 points), their place at the bottom of the USL Conference of the USSF D2 Pro League is misleading, given their scoring form in the first leg.
Watch for Nicolas Addlery to work his magic alongside David Foley and Josh Hansen. Addlery score a brace against L.A. on Wednesday and will look to bolster his production. The Islanders will also look to Richard Martinez to thwart a Galaxy attack in need of goals.
Prediction:
This will all go down to who Bruce Arena fields. But even if he fields his starters, I can't see this Los Angeles Galaxy side advancing. They have paid the price for the defensive lapses, and they will continue to do so on Wednesday.
The second leg of this home-and-home is where I like to be proven wrong. But with the way things have been going right now, I just don't see it happening. In fact, I am calling for Puerto Rico to win this.
The Galaxy need to get their priorities straight. There is no excuse for them taking the U.S. Open Cup and now the CONCACAF Champions League lightly.
Again, Los Angeles needs to prove their doubters wrong. This is a golden opportunity to do so. In the meantime, let's try this prediction…
Puerto Rico Islanders 2, Los Angeles Galaxy 0
Kickoff is scheduled for 5 p.m. PT and will be televised by Fox Soccer Channel and Galavision.
Comentarios
Comentarios