• Phaedra Almajid now says claims of bribes were fabricated
• Insists that she has not been pressured or paid for retraction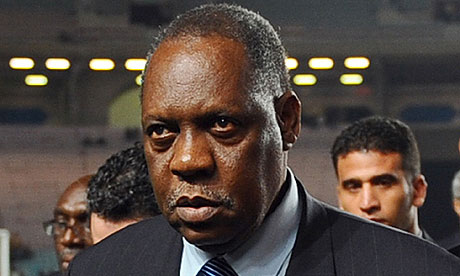 The Confederation of African Football president Issa Hayatou, one of the Fifa members who was alleged to have been bribed. Photograph: Fethi Belaid/AFP/Getty Images
The «whistleblower» who alleged Qatar paid huge bribes to three African
Fifa
 executive committee members during the gulf nation's campaign to host the 2022 World Cup has retracted the story, saying she «fabricated» it all.
The allegations, that Qatar's bid paid $1.5m (£935,000) to Issa Hayatou, Jacques Anouma and Amos Adamu, to secure their votes, were not published by any newspaper, but the House of Commons select committee for culture, media and sport did, based on a letter from theSunday Times. That meant the allegations of serious corruption, revealed by «a whistleblower who had worked with the Qatar bid», could be reported around the world with the protection of parliamentary privilege.
The whistleblower, publicly identifying herself as Phaedra Almajid, was employed as an international media specialist at Qatar's 2022 bid between May 2009 and March 2010. She now says she entirely fabricated that story of bribes paid by the Qatar bid, and other corruption allegations, because she wanted to «hurt» the bid after they decided to move her from her job. She said she was «furious» at the bid's suggestion that she was not handling the international media competently, and, «acting irrationally», decided to make up the corruption stories «to show them I could control the international media».
She now says she came to feel «sorry» and «guilty» for having severely damaged the bid's reputation, and that she never expected her fabricated stories to reach as far as the UK parliament and an intention by Fifa to investigate them.
The Guardian spoke to Almajid from Qatar itself, where we conducted an exclusive newspaper interview with the bid's chief executive, Hassan Al-Thawadi, which will appear on Tuesday. He said Almajid had been in contact with the bid wanting to retract her story, and facilitated our conversation with her. Both she and the bid insist they did not put pressure on her to issue her retraction, nor paid her or helped her in any way.
«The decision to make this admission is entirely my own,» she said in a
statement made on a website 
specifically created for her retraction. «I have not been subject to any form of pressure or been offered any financial inducement.»
This is the latest twist in the series of corruption allegations which have beset Fifa both before and after a majority of its executive committee members awarded the 2018 World Cup to Russia and 2022 to Qatar, on 2 December last year. The Sunday Times wrote to the select committee in May, setting out what it said were «credible» but «unproven» allegations that Qatar were paying bribes to secure votes.
These were mostly based on conversations with aspiring World Cup bid fixers held by undercover reporters posing as lobbyists for the US bid. But the paper also included the never-published allegations from the whistleblower that Qatar had paid $1.5m to Hayatou, Anouma and Adamu «to secure their votes».The committee emphasised the whistleblower's story in its report published last month to support the finding that it was «appalled by the allegations of corruption». The report said that although the allegations had been «challenged» by the Qatar bid team – whose letter said the story was fabricated – and in person by the English consultant, Mike Lee, who worked for the Qatar bid, the committee considered them: «Sufficiently serious for Fifa to commission a full, urgent and independent investigation».
John Whittingdale, the select committee's chairman, told the Guardianthat despite Almajid's retraction, he stands by the decision to publish the allegations naming Qatar and the three executive committee members.
«I can understand why Qatar would be upset about it,» he said, «but our intention was to stress that these were serious allegations which Fifa was not investigating. If it turns out it was all a fabrication, which is a good outcome for Qatar, that has come out because we published.»
Fifa has said it was seeking to fully investigate the whistleblower's story, but that she had imposed excessive demands, including not guaranteeing the accuracy of her information, and wanting «a comprehensive witness protection programme».
Almajid told the Guardian she presented those conditions knowing they would be impossible for Fifa to accept, because she did not want to become involved in an investigation. She then decided to retract and apologise, which included publicly identifying herself, because, she said: «If I remained anonymous it would only fix the story halfway, and that makes me feel guilty. I know I have done a lot of damage, and I really do want to apologise to the Qatar bid, Fifa, Adamu, Hayatou and Anouma.»
She said she apologised to the Qatar bid when she contacted them to say she wanted to retract. They discussed it with her and she has sworn an affidavit, which the Guardian has seen.
In it, she stated she made up the bribes story, and that she fabricated then leaked an internal document to suggest that Qatar was considering financially bailing out clubs in Argentina. Almajid also stated that she leaked information about the payment of Qatar's bid ambassadors, who included Barcelona coach Pep Guardiola, which was based on incomplete internal documentation.
Emphasising that she «was never threatened,» or promised anything to retract, Almajid said she now wanted to «undo the harm I have done».
Comentarios
Comentarios